Animal Communication Workshop(2 1/2 day)
Learn to converse with animals, both living and in spirit.
Practice your skills during the workshop
One evening plus two full days of class time at The Rock Center.
Reiki Informational Class(45 min)
Explains what Reiki is and why it works
Brief history of the healing art of Reiki
This class is perfect for anyone who is considering taking Reiki I & II.
Holy Fire® Reiki I & II
Classes (1 day each)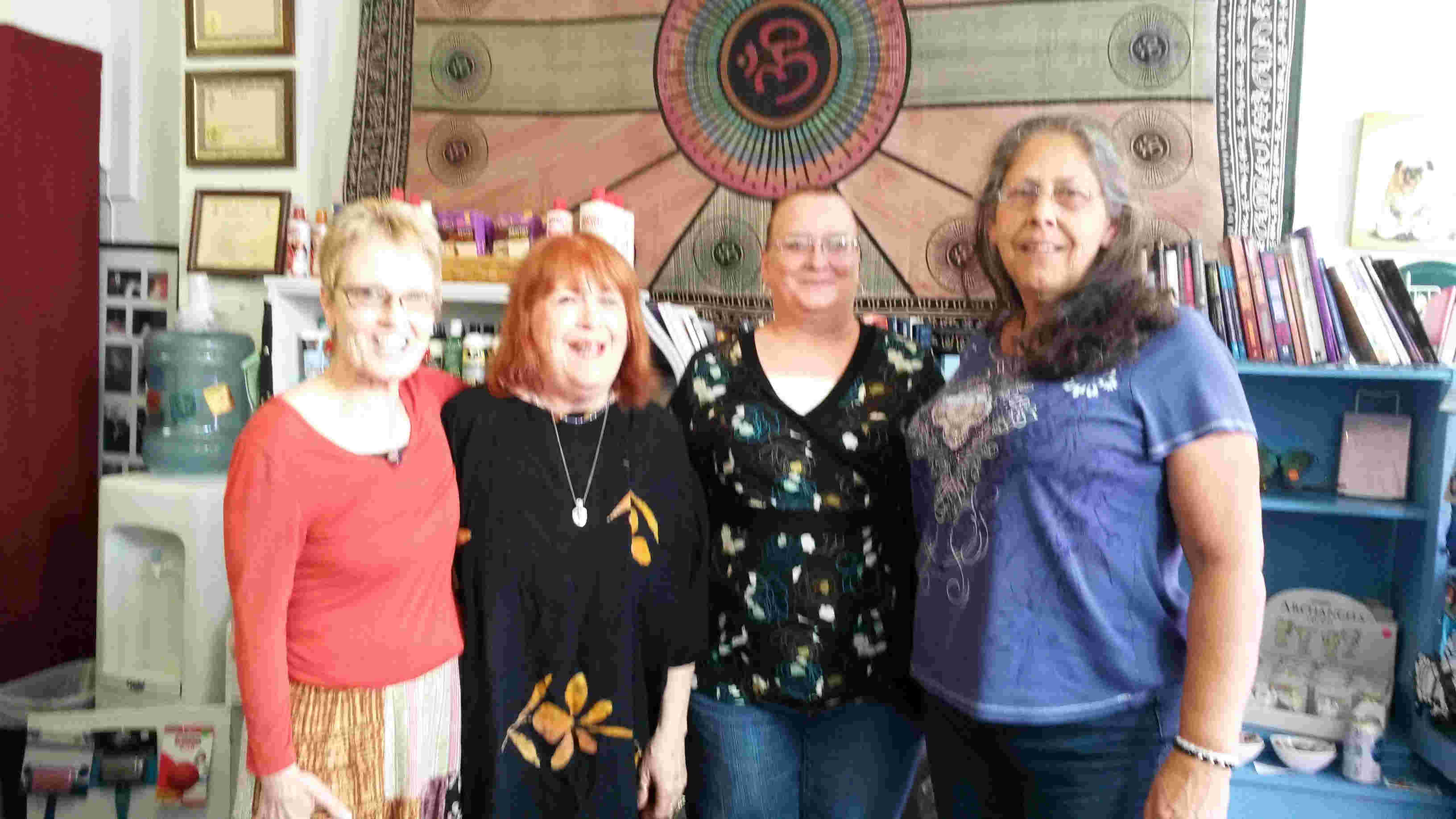 Holy Fire Reiki Master Class graduates!
The classes are structured for general Reiki knowledge and a practicum of the Reiki skills
Level I and II attunements are given along with explicit explanation and instruction
The classes are given in an intimate workshop format
1/2 day lecture, 1/2 day practicum

Continuing Education Credits are provided through the National Massage Board (NCBTMB)
Four practice sessions are included post-class with Gaye.
Questions are encouraged - thorough explanations will be given.
Reiki Psychic Attunement Class
Opens up your natural psychic abilities.
Expands your awareness from attunement.
Very little class time.
Perfect for anyone who wants to expand his psychic abilites.
Advanced Reiki Training (A.R.T.) (1 day)
This is the next step after Reiki I and II. Most people combine this class with the Holy Fire Reiki® Master training; however, A.R.T. can be done as a single class for $150. Here is what is included in A.R.T.:
Reattunement to Levels I and II, review of those symbols.
New attunements to make your healing stronger and more powerful.
Reiki grid
How to send continuous long distance Reiki
Use of crystals in Reiki
3 Reiki meditations
Chakra review in preparation for Master Level
Psychic surgery
Aura clearing techniques.
Holy Fire Reiki® Master(4 1/2 days) *
Learn how to attune others.

Receive Holy Fire Reiki® ignitions.

Usui Master attunement.
Advanced Reiki Training (A.R.T.) is included.

Lots of practical experience and long distance practice.
* What my students are saying about this class:
"This course was more than I expected-am all fired up! Gaye was great! "-Mary
"Amazing experience. Course was presented so a student sees their path and purpose clearer. So effective in self work and helping others. Makes you hungry for more knowledge"-Joanne B.
"Thank you! I found the course to be imformative and inspirational. I feel fully prepared to finally establish my practice. The instructor was warm and full of encouragement. She personalized instruction to meet the individual needs of her students."-Cheryl H.


Your Energy & Chakra Systems(1/2 day)
What the chakra system is, how it works, and how to maintain good health through good chakra maintenance
Participants will meditate and practice chakra balancing
Free chakra assessment/correction included.

Practical Psychic Protection & Defense(1 day)
Identify psychic threats and the sources of bad energy

Discover remedies and learn to protect yourself from discarnates and bad energy
Practical Forgiveness Class(2 hrs)

Learn why forgiveness is so important to your health and how to thoroughly forgive yourself and others.
Psychic Opening for Beginners(6 one hr classes)
Everyone has a psychic side; learn how to tap into it. Classes include breath/meditation skills, beginning clairvoyance, connecting with your Higher Self, Chakra/Aura work, Kenetics and Psychometry.
Angels101
Come and meet your guardian angel! Find out the heirarchy of angels and what angels can (and can't!) do for you. You will know which angel to call on for whatever situation befalls you after taking this class. A guided meditation to meet your guardian angel is included.
Guides101
Come and meet your guides -- which are different from angels -- and unique to you! You will learn what a guide is, how they can help you in life, and meet at least one guide during the class in a guided meditation.

Manifest Your Desires(5 one hour classes)
9 practical experiments that prove beyond a doubt that your thoughts control your world - consequently bringing about what you desire. Come get what you desire!

Akashic Records (1 day)
Learn what Akashic Records are
Learn how to open them for yourself.
If you are curious about your past lives, this class is for you!
Feng Shui for Beginners
Learn to use the power of Feng Shui to transform your life!
Simple Interior Design choices help you create a stress-free environment in your home.
Find how to improve energy flow in your home or office
Additional classes are given at Western New Mexico University. Contact WILL for further information.